Help a Friend
Be a Natural Helper...
Natural Helpers are friends who youth naturally turn to when they need support or help with a problem. Natural Helpers are an important support network and are often the first people to encounter a friend who may be struggling.
What Youth Tell Us About Natural Helpers...
Through focus groups run by the We CARE project, youth have told us that Natural Helpers...
genuinely listen without judging
reach out when friends need help
are open and available
are good problem solvers
are trustworthy, caring and honest
show empathy
know when a situation is too big for them to handle
support them in getting help if needed
How does a Natural Helper care?
(Click on the letters below to learn more)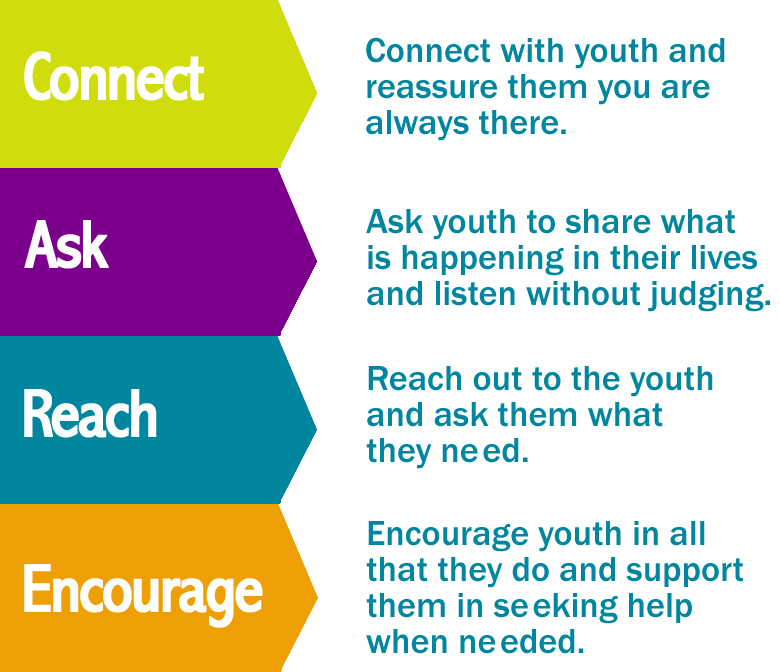 What if I'm really concerned for a friend's safety?
Any suspicion that someone you know may be considering suicide must be taken seriously. When the person's actions or words are cause for concern, get help to take them to the nearest hospital emergency department or call 911.
Do
Contact a caring adult
Take it seriously
Stay calm
Present as caring
Explore thoughts and feelings
Promise Privacy
Don't
Panic!
Think you can handle this without adult support
Leave the person alone
Ignore the person's need to talk
Allow disruptions
Minimize problem
Promise confidentiality
Do you need to get help?
There are many services available for youth and their families in Grey and Bruce Counties.